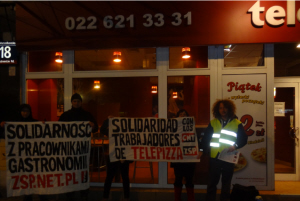 Comrades from the CNT-AIT in Spain who unionized at Telepizza in Seville were fired and since the beginning of the year, pickets have been organized there, demanding the reinstatement of the workers and improved working conditions. Solidarity pickets are also taking place in other cities in Spain. Here in Poland, we decided to show our solidarity to the comrades as well.
At the end of January, we started with publishing information, posters and leaflets about both the situation in Spain and the working conditions in Telepizza in this country. A few of our comrades have worked in this firm and also we have received denouncements from other workers. On February 3, we made some solidarity pickets. In Warsaw, two former Telepizza workers attended pickets. Leaflets were given out in front of the restaurants as well as inside, to customers and workers.
We certainly will go back and we will hope for more contact with the local workers.
Attached is an English version of a leaflet.