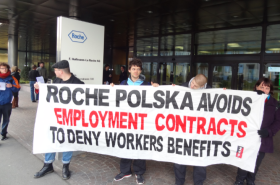 On March 8 there was a protest at Roche global headquarters in Switzerland organized by the local FAU and ZSP. Speeches were made in German and English describing the situation in Roche Polska which inspired the picket. We demanded the reinstatement of our comrade on a regular contract and payment of benefits to all the fake independent contractors.
The picket drew a lot of attention and many employees took leaflets and stopped to talk to the picketers.
The ZSP informed the headquarters that it will not back down and will continue with protests and the information campaign aimed towards the workers.