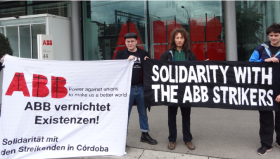 On March 8, members of the ZSP and FAU Switzerland organized protests at the headquarters of both ABB and Adecco corporations. The pickets were to show support of the EULEN-ABB strikers and to bring this case to the main offices of these companies.
We handed out hundreds of leaflets. Many employees of ABB and Adecco took them. At ABB many stopped to ask about the strike. The reaction at Adecco was rather hostile though, with claims that they are just "providing services" and threats to call the police.
After some hours of picketing, we left to Basel for another action at Roche global headquarters.