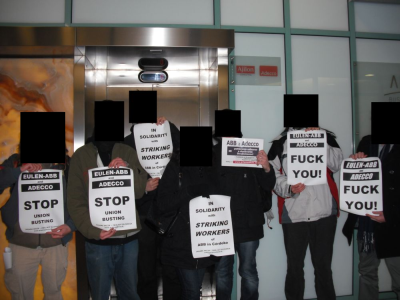 Last week, the IWA section in Slovakia, Priama Akcia, organized various actions in support of the striking workers from EULEN-ABB in Spain.
Trnava
On February 2, leaflets on the strike were given out near ABB in Trnava to the workers finishing their shift and other workers in the area. Stickers were put up around ABB and ADECCO and around the place where ADECCO temps live.


ABB Bratislava
On February 3, PA and some sympathizers went to the headquarters of ABB in Bratislava, delivering protest letters - from PA and from the supporters. The management was again not there (just like during the first visit in December). The secretary already knew about the problem and promised to give the letters to her boss. Leaflets were left in the windshields of nearby cars.
The group also went to ADECCO on the same day with letters of protest. They asked for a response to the letter and that the headquarters of ADECCO in Spain be informed of the protest. The Secretary said that there was already communication with Spain.
On the 3rd, ABB in Žilina was visited the second time. Although people arrived at 3PM, nobody was in the office (like the time before) so a protest letter was left in the door and leaflets distributed.
Threats from ABB in Prague
The lawyers from ABB in Prague sent a letter to one of the comrades of Priama Akcia
that the protest letter is junk mail containing untrue statements and if he doesn't stop sending it they will sue him for "spreading alarming infromation"