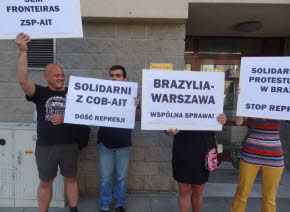 On July 10 a solidarity action was held outside the Brazilian Embassy in Warsaw in support of Brazilian social protests and comrades from COB-AIT who are facing repression. The comrades were arrested during one protest and were due in court at the time of the protest.
The action was also held on the eve of a general strike in Brazil. We hope that workers will continue to mobilize and do so outside the main unions.
Down with the state and capital!