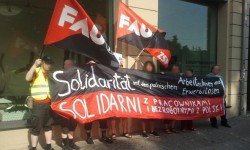 On June 18, in the frame of the International Days against dismissals and in defense of the rights of the unemployed organized by the IWA, there was a solidarity picket at the Polish Institute in Berlin organized by a new Union of Unemployed of FAU and the ZSP. The picket informed people about the working and social conditions in Poland, including the shockingly low payment for the unemployed and new attempts to take away benefits and health care for anybody refusing any job offer. There was also information about the liquidation of the 8-hour day and other anti-social ideas of the authorities, such as putting people without homes in containers.
Activists from FAU and ZSP spoke to passersby about international workers' solidarity and about fighting together to improve the conditions of all, instead of getting into destructive competition and a race to the bottom.
The activists from these two unions also have made a guide with advice for unemployed Poland immigrants in Germany.