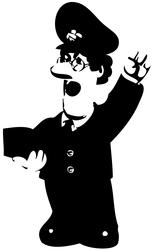 Despite the geographical distance between us, the North London Solidarity Federation supports the struggle being waged by our fellow brother and sister workers in the Canadian Postal Service. We applaud the inspiring wildcats and direct actions that took place in Edmonton. While we know the next round of strikes will be "official", we hope the militancy and self-organisation witnessed in Edmonton will continue to be an integral part of workers' struggle in the Canada Post.
In London, too, posties are facing job cuts because of incompetent and greedy bosses. Your battles and are ours are interlinked in the global fight against the boss class and their state lackeys.
A united working class can never be defeated

Solidarity Forever!
www.solfed.org.uk